Everyone has their own timezone for things to happen; be it better career opportunity or finding a life partner or achieving some goal.
When things don't happen despite putting in efforts, there is no need to panic. It only means your time is yet to arrive and one day you will definitely achieve what you had desired.
Hard work when combined with a positive attitude and mindset yields success!
I always had high ambitions and aspirations in life. Right from the days of pursuing my engineering in college, I dreamt to be in one of the most highly reputed multinational company. However, things did not go as per plan. My dream of getting a good start in career could not happen owing to the fact that it was a recession at that time. With utter hardships of certain months post-graduation, I landed up with a job in a small IT organization.
Something is better than nothing. Instead of waiting, I decided to take baby steps rather than simply haunting for a big start.
I had heard from my seniors that initial years of career is very important and plays a crucial role in shaping the future. I too took advantage of the learning phase of my career and dedicated my time towards learning new technology and grooming myself as an IT professional. With time, I started learning team management as well. Despite having the mindset of wearing crisp ironed formal clothes to the office, I was reinforced to wear casuals since the company allowed casuals and the majority of them wear found availing this option.
While some of my friends were well settled in MNCs and having different exposures, I was trying my level best to adjust and achieve what I can.
After working here for about 3 years, I decided to switch and move to some other organization with better career perspectives. This time too I landed up in a startup company with complete US culture. This was, however, a memorable part of my journey. People here were quite open-minded, friendly and different from others in any so-called company. I adapted myself to this culture with Inventory and Loyalty as my domain knowledge.
My journey now seemed much happier than the destination and I was looking forward to settling here.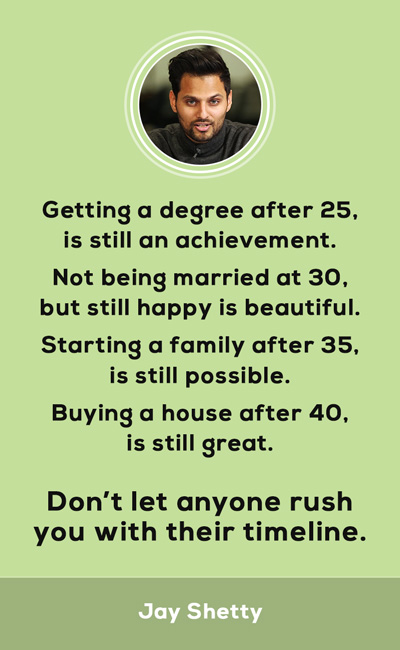 However, destiny demanded something else and under certain circumstances, I had to leave my current firm. Once again, I was struggling to find a suitable organization to settle in. This time it was not really MNC but a decent job offer with considerable learning and exposure.
Each time the fact that my batch mates have already been well settled in their life somewhere was a distracting and discouraging factor for me.
This time my efforts were not just limited to finding a good job. Though there was pressure for settling in career, behind the scene there was also pressure by a family to get married. After a couple of interviews, I could finally see my dream come true when I received an offer letter from a well-known MNC. Slowly and steadily things started getting sorted. I joined MNC, got married and playing a key role in the company.
This has helped me to understand one basic principle of a happy life, if you wish to achieve something, do not compare yourself with others. If you have the power within you, you can achieve anything in this world. Do your best and achieve what you can in your timezone.
Remember, the two most powerful warriors are patience and time. – Leo Tolstoy, War and Peace.